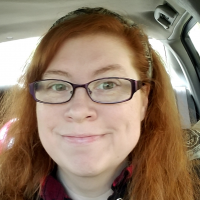 Nikki Noffsinger
Contemporary Romance, Paranormal Romance, Children's
Profession

Author, Waitress, and Full Time Mom
I have always had a great love of books and creating my own stories. Writing about things that stirred in the dark shadows and gave my sister nightmares, I always kept to myself until I was about 34 years old when I decided I needed to see where this road would lead. I'm not even part way through my journey isn't even halfway through yet. I am a full-time student with my studies centering around Human Services and being a full time mother to my son . I have a daughter who is grown with a little one of her own and I take my role as her NeeNee seriously. Well kind of silly but who doesn't wrap themselves up with their grandbabies? I also work part-time at a local pizza parlor and it helps to pay the bills. I am recently divorced so being single after 21 years and 2 kids has taken some getting used to but life is not over for me and neither are my stories. I have so many dreams and I plan on living all of them.
Video
Cursed Awakening: Where Passion Can Be Deadly
Small deeds done are better than great deeds planned.
Peter Marshall
Ways to reach Nikki Noffsinger